Service While You Wait!
While your car is being serviced, you can enjoy a comfortable & luxurious experience in our state-of-the-art dealership lounge where we have a café with a wide variety of food & drink options, TVs for your entertainment, and today's top magazines to read. You can also visit our showroom floor to take a look at your next BMW! Should you like to leave the facility but remain close to the dealership, the W&OD trail is just steps away from our dealership for your enjoyment!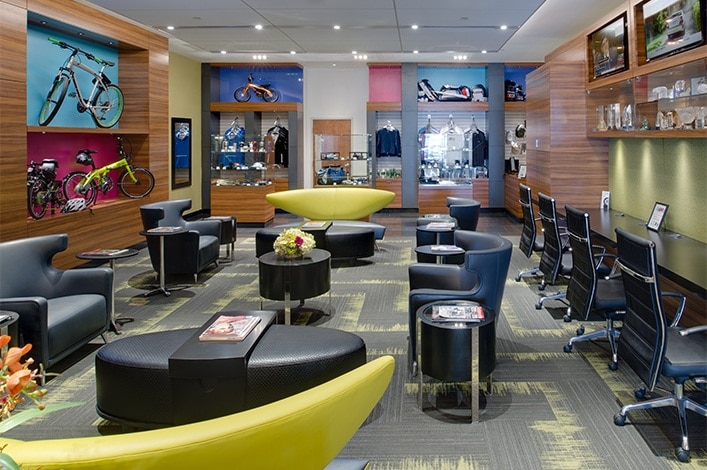 Shuttle Service 
Monday - Friday 8:00am - 5:30pm (last shuttle leaves dealership at 5:30pm, scheduled trips till 6:00pm) Saturday 9:00am - 3:30pm
Loaner Car Policy 
 We understand that being without your vehicle can be an inconvenience. We offer several options to assist you. For minor maintenance issues such as an oil change, we ask that our clients wait in our comfortable, Wi-Fi equipped customer lounge. For some service & repairs, we offer free shuttle service to clients within 12 miles of our dealership, providing round-trip service if needed.
     Courtesy Vehicles are offered under the following policy: 
A courtesy vehicle is only offered for repair services that are expected to take more than 2 hours. BMW Loaners are offered to customers who have called in advance and scheduled their appointment. Enterprise Vehicles are offered to customers who haven't scheduled an appointment and also as a back up for when BMW Loaners aren't available. If you drop your vehicle off before your scheduled appointment you will be offered a Enterprise vehicle instead of Loaner. Please allow a few extra minutes in your schedule to accommodate for the check in process. We cannot guarantee alternate transportation for same day appointments.

Due to insurance regulations, the drivers of courtesy vehicles must be 21 years of age.

The driver must present a valid driver's license, credit/debit card, and proof of insurance before operating the vehicle.

Only the person(s) named on the Loaner Agreement and their spouses are permitted to operate the Courtesy Vehicle.

Drivers named on the Loaner Agreement are responsible for all charges incurred against the vehicle during use, including tolls, tickets, fees, penalties, damages to vehicle including tire and wheel damage, and any costs incurred by BMW of Sterling. An administrative fee of $50.00 will be charged for processing these charges.

BMW of Sterling only authorizes payment on Enterprise Rentals for 2 days unless authorized by a Service Manager.

Once notified that your service has been completed you have 24 hours to return the Courtesy BMW Loaner Vehicle. If the car isn't returned within the 24 hour window a daily usage fee of $179 per day will be charged to the credit card on file.

A fee of $5.00 per gallon and a $5.00 surcharge will be charged to the driver who does not return the Courtesy Vehicle with the same level of fuel as when it was checked out.

 

Mileage is restricted to 125 miles per day. A mileage fee of $0.55 per mile will be charged to any customer who exceeds the daily mileage allowance.

All Courtesy Vehicles are NON-SMOKING vehicles. A detail fee of $299.95 will be charged to the driver who smokes in our vehicle.

Pets are not permitted in Courtesy Vehicles. A detail fee of $299.95 will be charged to the driver who transports their pet in our vehicle.
        Courtesy Vehicles Return Policy: 
When returning the courtesy vehicle customers must do a final walk around with a loaner representative to verify any damage or detail needs along with verifying the fuel level of the vehicle. After the final walk around you will receive a final loaner agreement signed by both you and the representative that completed the check in. If there are any charges to be made due to damages, detail or gas fees that will be noted on the final signed agreement. Please allow a few extra minutes in the pickup process to accommodate for this process.
Languages Spoken
Sterling Motor Cars proud to be a diverse Automotive Business.  The following is a list of the languages spoken and or written at our operations:
| | | | |
| --- | --- | --- | --- |
| ASL (American Sign Language) |  French |  Lao |  Russian |
| Arabic |  German |  Moroccan |  Spanish |
| Chinese |  Hindi |  Mongolian |  Swahili |
| Dari |  Hungarian |  Persian |  Thai |
| Ewé |  Korean |  Punjabi |  Tui |
| Farsi |  Kurdish |  Romanian |  Tui |
| Filipino |   |   |  Urdu |